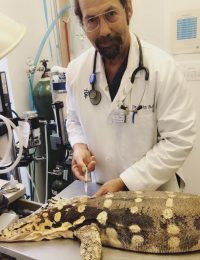 Dr. Rossi has been a veterinarian for over 30 years, and has operated Riverside Animal Hospital for the past 23 years. He is one of the country's leading authorities in reptile medicine, and is the author of nearly one hundred articles in the fields of herpetology and reptile medicine. Dr. Rossi has also published several books on care for animals of all kinds. You can browse Dr. Rossi's library of work on our "Books Written by Dr. Rossi" page.
Dr. Rossi earned degrees in both zoology (BS, SUNY at Albany, 1977; MA, University of South Florida) and veterinary medicine (DVM., University of Florida College of Veterinary Medicine, 1986). He has given four lectures at the North American Veterinary Conference (the largest of it's kind in the world), and taught vertebrate biology as an Adjunct Professor at Jacksonville University. He is also a member of both the Association of Exotic Mammal Veterinarians and the Association of Reptilian and Amphibian Veterinarians. His experience treating animals as varied as bats and boas over the last 30 years, coupled with his desire to share his knowledge with others, has made him a valuable resource in the veterinary community.
Some of his other accomplishments include several local and national television appearances, the largest of which was broadcasted to 120 million people (yes, we just said 120 million). He is also mentioned in the October, 2002 issue of Reader's Digest in a feature article by Bill Goss, with an estimated circulation of 60 million. Dr. Rossi has also been the central figure in many articles, and has been quoted frequently in both lay and professional articles.
An explorer at heart, Dr. Rossi's true avocation is traveling to far-away places in order to study the habitat and habits of animals of all kinds.
If you are seeking professional, compassionate and intelligent care for your pet, Dr. Rossi is the veterinarian for you!