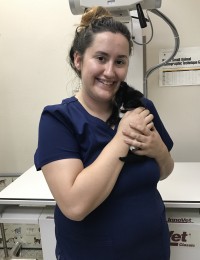 Office Assistant and Receptionist
Bri is our compassionate and skilled Office Assistant/Receptionist. She moved to Jacksonville from LaCrosse, Wisconsin three years ago, and is now happily settled with her American Bulldog, Arielle, and her boyfriend, Mark. When she isn't working at our hospital, she helps run her friend's food truck! In her free time she enjoys cooking with her boyfriend, going to the beach, and attending music festivals. One day, she hopes to backpack around the world, with Mark and Arielle in tow!
You can contact Bri at bri@riversidejaxvet.com.