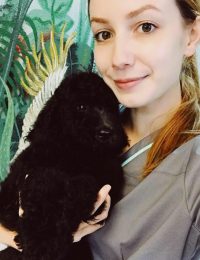 Receptionist and Social Media Coordinator
Hey, I'm Abbey! I'm a receptionist and social media coordinator here at RAH. I'm a military brat who loves to travel, but for now, Jacksonville is home! I currently live  Downtown with my boyfriend Keith, scarlet veil tail fish, Lucy, and corn snake, Lollipop. My grandparents ran a farm in rural Missouri, and my uncle owns a large animal veterinary practice in Texas, and so I've always loved animals.
You can reach me at abbey@riversidejaxvet.com.